Recording Connection student Nick Schilke works with Weezer, Miguel at his mentor's studio!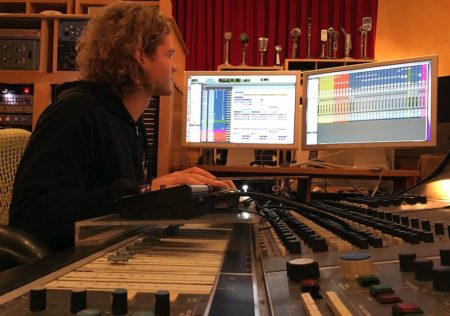 These days, Recording Connection student Nick Schilke stays busy in a good way. When we caught up with him recently, he was just recovering from a marathon mixing session for his mentor. "Yesterday, I had to mix ten songs," he told us.
[break side="left"] Nick's busy schedule is a testament to the trust he's earned from his mentor. In fact, since starting his externship with music industry veteran Larry Goetz at The Lair in Los Angeles, Nick has already had the opportunity to work with several major artists, including pop-punk icons Weezer and R&B superstar Miguel! Nick believes these opportunities are coming his way not just because of his skills and dedication, but also because of his studio etiquette.
[break side="left"] "Larry knows a lot more people that will engineer better than I do," Nick admits, "but he seems to like me with people. In my experience, obviously, you've got to know what you have to do, but…after that, it's more about having a good vibe and having people want to have you in the room."
[break side="left"] Nick's interest in recording and producing music came from playing in bands as a teenager growing up in Spain. "I started playing the guitar when I was about 13 or something like that," he says. "I've always been in bands and playing concerts and stuff, but when we wanted to save some money recording, because studio time's expensive, we instead of just like paying a lot of hours and getting something that we weren't really going to like, we decided to spend it on our own equipment and just record it ourselves…It was when I was doing that when I realized that I enjoyed the processes of recording a lot…But like it wasn't really good. It wasn't good at all."
[break] After moving to the U.S., Nick decided he needed to up his game in audio work. He found the Recording Connection online and decided to enroll. As soon as he walked into the studio and met Larry, he knew he was where he needed to be.
[break] "I've been in studios before, but this was very different," he says. "Studios in Spain are good too, but…I mean, Larry's studio is amazing. He's got so [much] gear…I didn't even know him yet, and I wanted to be there using all that gear as soon as possible. The interview with Larry was great. I mean, I liked him from the beginning."
[break] As Nick learned the ropes and made himself useful, his mentor started giving him more responsibility. When one of the staff engineers got sick, Larry called him in to assist, and he stepped up. "I think it was two hours ahead of the session, and he had no one to do it. It wasn't a hard session, but…Larry called and asked if I could go and do it. So I did it, and I guess they were happy."
[break] From there, Nick continued to assist on sessions, including setting up for Weezer when they came in to rehearse for a tour and then weeks later when they came back to record. Before long, he says his mentor would help him set up, then leave him alone to run some of the sessions. By the time Grammy-winning artist Miguel showed up for some songwriting sessions, Nick was in the engineer's chair for three days' worth of sessions with him. "He was there with a producer, and they were just like jamming, pretty much just jamming to whatever," he says.
[break]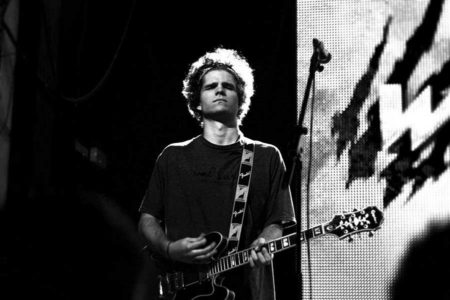 [break side="left"] Despite working with some bigger names, Nick seems to take it all with a grain of salt rather than being star-struck.
"I think of artists as people,"
he says.
"They've accomplished a lot more than you have, but if you let them know that you respect them for what they have accomplished…They want to go to the studio and make music. They don't want to go to the studio and keep like signing autographs and taking pictures."
[break side="left"] With a long-term goal of being a producer, Nick is grateful to be learning the engineering side.
"One of the things I've seen is a lot of producers, I mean they're great producers, but they don't know a lot about engineering,"
he says.
"So it gets confusing sometimes when they want to talk to the engineer and ask for specific stuff that they want… My goal is to be a producer, but I want to know how to engineer before [that], to be able to be my own engineer."
[break] Nick is also grateful for his mentor and the opportunities he's being given.
[break]
"Larry has been the best mentor possible,"
says Nick,
"always teaching me new things between sessions. He is like a human encyclopedia…Being at the studio here, I've learned a lot."
[break][break class="no-mobile" side="left"]