Recording Connection grad Frank Demilt hired as Head Engineer and A&R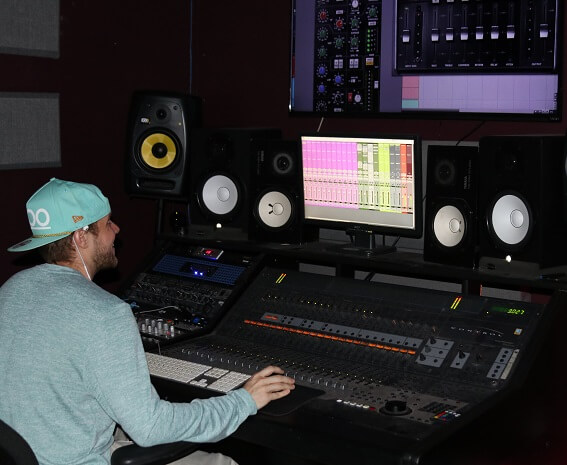 [break side="right"] Since graduating Recording Connection for
Audio Engineering & Music Production
, Frank Demilt, hasn't wasted one moment. When it comes to building his career in music, he's totally committed to making it happen for himself 110%. Before enrolling in RRFC, Frank was hardly a stranger to audio. In fact, Frank studied Audio Production at Ithaca College prior to enrolling with us, where, entering as a sophomore, he graduated their 4-year program after just 2 years. Nevertheless, Frank recognized the value of getting trained in-industry and building his connections with Recording Connection.
We recently caught up with Frank to learn more about his multifaceted position at Water Music Publishing (Lonely Island, Tiësto, Fifth Harmony, Lionel Richie) , learn more about his day-to-day, and to see how he's helping artists gain traction in today's music industry.
[break side="right"] So what's your day-to-day job at Water Publishing?
[break side="right"] "My main job is to be the head engineer for the publishing house. So anytime we have our writers come in or our producers or our artists come in that need to do songs, do recording, mixing, mastering, that's what I do. Because it's a publishing house, I also help with the A&R side, finding the artists and then helping them build and grow to the point where we can shop not only their music, but shop them to labels and get them signed and get them deals. Water Music Publishing is the publishing side of our business. The umbrella for everything is Sloppy Vinyl where we do regular studio time, mixing, mastering…So, I run the studios, I'm in control of the sessions, I'm in control of all the mixing and mastering for Water and for Sloppy itself, all the artists that are signed to us, writers, producers, and stuff. I'm the mixing engineer for all of them."
[break side="right"] What led you into audio in the first place?
[break] "As a kid growing up…me and all my friends thought we could rap, and thought we were cool and found it fun. But then I found out very early that I have stage fright. So I kind of had to put artistry on the backburner knowing I could never get on stage…that's kind of how I got into audio engineering, was trying all the aspects of music and failing greatly at everything except engineering."
[break side="right"] What led you to Recording Connection?
[break] "I went to Ithaca College and graduated from their audio production program, and was trying to find my way into the industry…but I couldn't really find my footing. So, I was trying to find another avenue to help bolster my skills but also help put me into reputable studios. That's when I found Recording Connection. And I did my research on it, talked to a couple people, and found that it would be cool to not only bolster my skills in the way that you guys help, but to be able to sit in a studio whenever they let me and gain experience and get to network that way. It was beneficial because from there, it helped me get to here where I'm at now."
[break]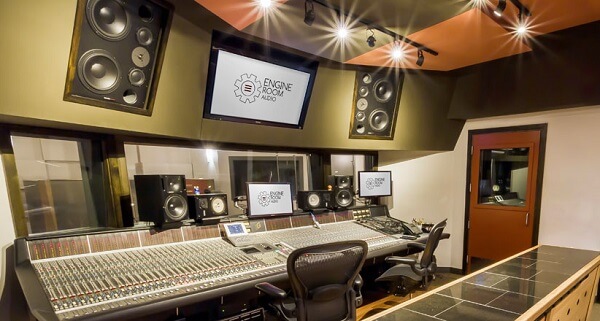 You were placed with Mark Christensen and Michael Bader at Engine Room Audio in New York City. Did that experience help you build your skills or knowhow?
[break side="left"] "It definitely helped. Previously I was working in smaller studios. Then working at Engine Room, a big commercial studio with the big boards and big rooms, the mastering rooms and all the stuff, that I'd never got a chance to see before…broadened my experience to different things [which] I wasn't able to do coming straight out of college.
[break side="left"] Mike helped me understand music composition when it comes to arranging tracks and creating a flowing structure of the song. When I was learning from Mark, a great mastering engineer, [I] got to see a side of the creation process that I was not previously given access to. Being able to gain the perspective of the producer (working before mixing) and learn from the last person to work on the song before it's finalized (the mastering engineer), gave me an overall sense of what each individual is looking for when they get the tracks, and what they are doing to enhance the tracks. This had made me be able to go more in-depth when talking to artists about the full process of their song creation."
[break side="left"] What do you think is particularly helpful about the way that we train our students?
[break] "You get to actually pick the brain of somebody working in the industry. I can't account for what Full Sail or SAE offers because I didn't go through those programs, but going through just a regular four year college program for audio engineering, you're thrown into the fray with people of all different aspects. So there could be people that know nothing about audio and are just starting, and there could be people like me who already had a background in it going into college. So I was kind of ahead of the curve. [At those schools] they have to just do a baseline, like, 'This is the class. This is the curriculum. We can't really cater to you if you're ahead of the game or falling behind.'
[break] With Recording Connection you get to sit and talk with your mentor one-on-one, so that mentor can gauge where you are. So if you're a little bit ahead of what the lessons are teaching you, you can kind of go a little bit ahead. That's what I did."
[break]
Do you find having a leg in both A&R and engineering beneficial?
[break] "It has definitely helped because not only do I now know how to see certain musical trends to get the artists that we're working with and the sound that we're working on to be competitive and maybe ahead of the curve…it also shows me what different labels and executives are looking for in an artist, in a sound, in a writer, producer and different songs, so [that] when I go out and try to find my own production people, my own writers, my own artists to work with and bring into the publishing house, I know how to guide them into what the labels and execs are looking for instead of just [saying], 'All right, come in. Let's make music and hopefully somebody likes it.' I can now guide them, 'All right, this is the sound people are looking for. This is how your social media and branding needs to look…Now, let's gear it so that you, as an artist, not only fit the mold, but let's help you stand out so you can get recognized."
[break]
Have any artists you're excited about?
[break] "We recently released Lawand's EP project
Pedestal
, available on all streaming platforms. She's an R&B pop act from Kingston, New York. I don't want to compare her to anybody, but for readers to understand, she's kind of like a Jhené Aiko or Kehlani. Then we have a DJ DoughBoy compilation project called
The DoughBoy Project Anticipation
, releasing any day now. You can find the singles we've released from the album on iTunes and Spotify and all the other streaming platforms as well."
[break] Learn more about
Recording Connection's programs
.
[break] [break] [break] [dts_sharebar] [stars] [/read-more]