Hired & On the Right Path: Graduate William Reyes
A deeply devout Christian, not long ago William Reyes was trying to find his career path in life. Less than one year later, he's graduated Recording Connection for Audio Engineering & Music Production School, has an EP in the works, and he's even got a job as an Audio Editor working with his former mentor Rob Malloy at War Drum Mixing. We recently spoke with the hardworking graduate and music producer to learn more about his journey towards realizing his calling and making the most of it day-by-day.
[break side="left"] What led you to Recording Connection in the first place?
[break side="left"] "Well, actually it is a long story, and I told the same story to Rob at War Drum…Fresh out of high school, your mom, grandmother, teachers, everybody asks you 'What do you want to do after high school?' …And I honestly did not know…I just always gave the lame answer, 'I'll just be a doctor or something,' just something to say to get them to stop talking. [Then, I thought] I actually want to have a career in something I like, but I didn't know what it would be…I'm very religious. I grew up in the church…So I prayed, I asked God…'What will it be?' And it was prophesized to me one day in church that it would be music. So I was like, 'Okay, cool.' Then after that, everybody kept asking me, 'Are you in school yet?' So I took that as a sign.
[break side="left"] I asked Him, I was like, 'I really want to go to a school that I don't have to learn math, science, and history before I even get to the thing I paid for to learn about.' And next thing I know, I'm googling…I found RRFC, and the first question I asked was that question, 'Can I just go straight in to learn what I want to learn?' And they were like, 'Yeah.' And it just kind of all fell in place. Then I applied, and here I am today, graduated."
[break side="left"] After receiving the calling, did it become clear to you that music had always been an intrinsic part of your life?
[break side="left"] "[I] remember being in a car with my mom or anybody [listening to music] and I would just be like, 'Oh, do you hear how that comes in, and how he says it!' and this, that, and a third. I always had that, I always liked the way something would come in or even movies like when Darth Vader's coming down and the Imperial March was playing. I was just like, 'Oh, [the music] just makes it all look good and all dramatic and stuff.'…The one-time music ever made me cry was [in] Titanic. It wasn't that everybody died… it was at the end…the flashback and that music was playing the "Heart Will Go On" song…It just makes you feel some type of way."
[break side="left"] Tell us about your experience training with Recording Connection mentor Rob Malloy at War Drum Mixing.[break side="left"]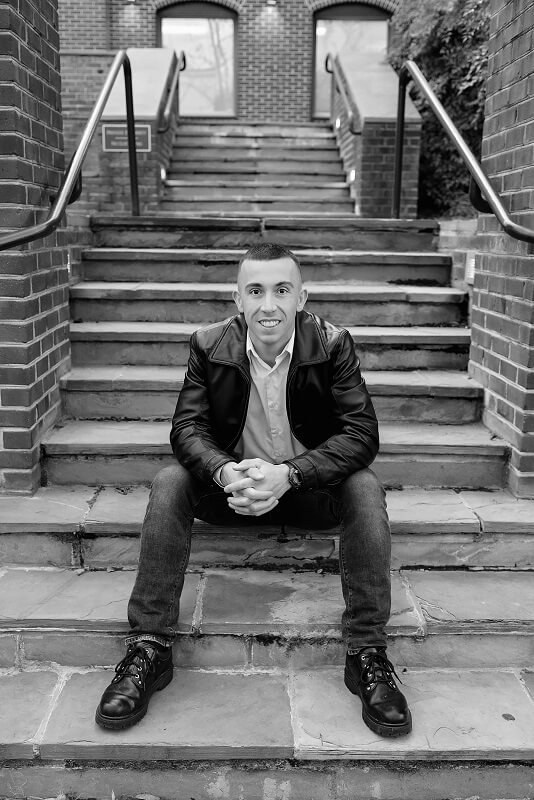 [break side="left"] "He's very professional…He just does it because that's what he likes to do. He's not in it for fame or glory or any of that. I like that quality about him— that he wanted to teach —and then he taught me…He just really has a good mentor quality. You know what I'm saying? Almost like a coach. People can probably relate, like you have a coach that even on the personal side, he'll still give you advice maybe about a girlfriend in high school, that kind of thing, but then he's still going to teach you to play football, you know, get that ball down the field. He has that nice coach mentorship [style]…asking me about like how's my family doing… then he says, 'Okay, now we're going to teach you EQ'ing.'"
[break side="left"] We heard you recently got hired by Rob.
[break side="left"] "Yes, I just started. I'm hired on. I'm in the door… just doing editing work. I'm not fully mixing or recording people yet. I just know that there are bigger things to come. So I just want to get into that actual mentality that he has of just, 'Hey, if you want it, you can get it.'"
[break side="left"] The EP you have in the works, Been Humbled, deals with the theme of your finding your way in life. What can you tell us about that?
[break side="left"] "[The song] "Inner Conflict" is about when I was told I would do music. So after that, I went and wrote a song about it… At the beginning of the song I'm telling myself, or just speaking to the audience saying, 'I guess I can make something out of myself'… then the second verse is…like the evil side telling me that I can't make it…That's what I felt at that moment when I wrote it."
[break side="left"] What's your advice to Recording Connection students on how they can make the most of their externships?
[break] "There's no such thing as a stupid question. Ask. And practice, because the modules give you little sample songs, download [them] and then you can practice… They really kind of make it to where if you want it, you have to go get it. And I learned that from Rob. I don't know how other mentors are going to be, but if you really want to learn this, read the modules and then of course the mentor's going to further [help you] do it, but you've actually got to do it and then ask the questions. ..And help as much as possible in the studio sessions… Even learn how to turn on mics, how to set up the mics…The modules tell you [how to do it] but when you're actually there yourself, it's a lot different."
[break] Learn more about Recording Connection's programs in audio engineering and music production, beat making, hip hop, and more!