Recording Connection grad London Elixir Paves Her Own Path to Success
[break class="double"][break class="double no-mobile"] [read-more]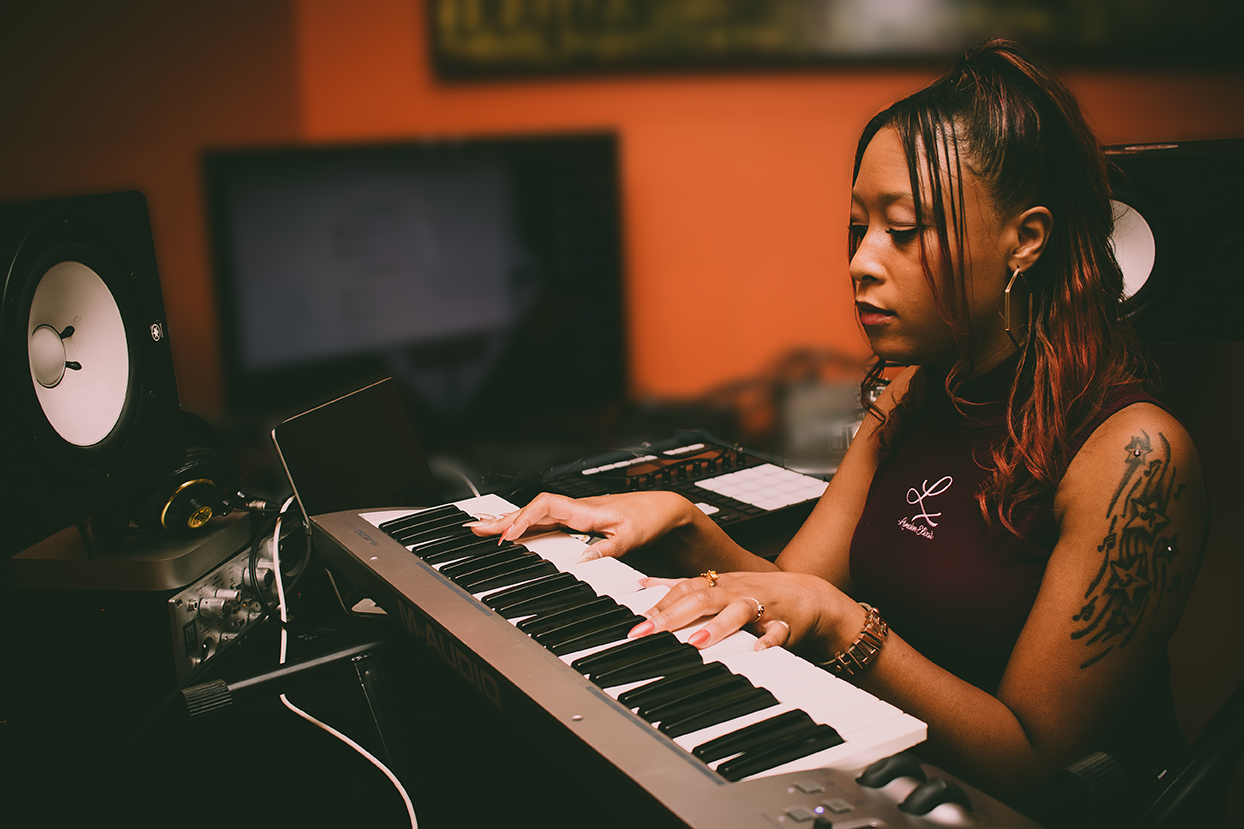 London Elixir
started
Recording Connection for Hip Hop Production
in 2016, when she was nearing the end of her last semester at Ohio State where she majored in Computer Science Engineering. Not one to waste time, London took advantage of our flexible scheduling and jumped into learning and doing work she already knew she loved—producing music.
[break side="left"] Recording Connection mentor, producer Joey Gurwin (A$AP Ferg, Mac Miller, Flo Rida, Seun Kuti) of Oranjudio took London through the Hip Hop & Beat Making Program and gave her free reign when it came to sitting in on sessions and assisting wherever needed. Not surprisingly, London learned fast and got to producing and recording artists at Oranjudio during and after graduating. Remember that degree London was getting at Ohio State? With that bachelor's degree, she landed a high-paying job as a software engineer. Nevertheless, she kept her ultimate career goal in her sights. Now, she's living in Atlanta, thriving as a music producer/entrepreneur who's working with an array of artists, both up-and-coming and acclaimed including: That Girl Lay Lay, Ms. Jade, Xtassy (of A&X), Dascha Polanco, Silento and more. While carving out her own path as a self-described female Calvin Harris who hand picks artists to feature over her own infectious, feel-good productions, London's even authored a book about her journey (which we're proud to be part of), so read on.
[break side="left"]
You knew music producing was in your bones, so why did you go to Ohio State?
[break side="left"] "I went to school for Computer Science just because I had the full-ride and they didn't offer music production as a major. So, I just wanted to take advantage of that so that I could get into a field that had a big demand. And then, I would take the money I was making in that career and pay to do music. That was my strategy."
[break side="left"]
Awesome. So how did you find Recording Connection?
[break side="left"] "I was getting ready to graduate from Ohio State, and I began looking for programs that had music production as majors, or just something more specific. I wanted something closer to a trade [school]. I had just finished a four-year institution. I didn't want to do that sort of thing right away. And plus, I was about to start my full-time job as a software engineer. I saw the Recording Connection, and I had never seen anything like it. It was so flexible, it was so affordable, and it was something I could pay for myself…. I also liked the fact that they would pair you with studios because then I could get my hands-on experience, and I'm a hands-on person."
[break side="left"]
Wow, talk about firing on all cylinders. So tell us about your first initial meeting, i.e. your interview with Joey Gurwin at Oranjudio, how was that experience?
[break side="left"] "So, my mom and I went to the studio. It was only like five minutes from where I was living at the time, so kudos to you guys, you put that together very well. We walk into the studio and I'm just super excited. I see this big mixing board and this piano, and I'm just happy to be there. Joey was just really inviting and there was a co-owner of the studio there, his name's Brandon, they just asked me what made me want to get into music, and what was I hoping to get out of the program, and gave me a little bit of an idea of what to expect, and that was pretty much it….I'm an energy person, I guess, so I just kind of go off of the vibes of people. They just had a really good vibe, the atmosphere was great, and that was it."
[break side="left"]
So, no reservations, you were ready to go after that?
[break side="left"] "Yeah, I was ready. That was it."
[break side="left"]
So what was it like training with Joey?
[break side="left"] "Joey was awesome. The studio was open to me whenever I needed it. If they had recording sessions, I could go in and sit in on the sessions and come and help them set up the mics or, you know, get the Pro Tools prepared, things like that. And that really helped me because it allowed me to realize what goes on in a usual studio session, how the artists feel, how that affects what they're going to record, and how to record different types of instruments."
[break side="left"]
Were remote training sessions with a member of our Academic Department helpful to you?
[break side="left"] "I got a lot of one-on-one time with [the Academic Facilitator Joel Arevalo]. I would let him see my screen and things like that. So, when I was working on music, I would share new beats…and he would give me tips…and show me how to do different transitions, how to master a track in Logic…. So, having that one-on-one time with my advisor was cool as well because I got to get feedback from him on a regular basis."
[break side="left"]
So how'd you get from living in Columbus and working full time as a software engineer to living in Atlanta and having a thriving career in music?
[break side="left"] "I was still working full time while I was at Recording Connection because, remember, I had graduated from Ohio State with my software engineering degree….So, I did that for three years after graduating….After I finished Recording Connection, I was able to stay at that same studio…and work with artists on my own…so, that's what I did for the first…six months after I finished; I just stayed there, and tried to build up my clientele, and work with as many people as I could in my hometown.… So, about a year after [that], I moved to Atlanta, and I got into some studios down here, and began networking, making connections, and I wrote a book…"
[break side="left"]
How are you bringing in an income as a music producer and entrepreneur?
[break side="left"] "Multiple revenue streams is super, super important. So, I'm a music producer first, so I have an online beat store where I do leases but I also work with artists individually, where I create custom instrumentals for them, for their specific projects. So, that's the production side.
I also do music production lessons… [and] engineer, record vocals, mixing, things like that…Then, I put out my own music as well. I'm not, like, a singer or a rapper, but I'm more a…Calvin Harris. So, streaming and merchandise, stuff like that, that's another revenue stream."
[break side="left"]
Please, tell us about your book. What's it about?
[break side="left"] "The name of the book is called "
PTO
," which stands for Prayed Time Off, and it's all about living in your true purpose….I feel like my passion was connected to my purpose because I was working this high-paying job, and even though I took that route knowing that I wanted to do music full time, it was a big decision to leave that to become an entrepreneur because I took a pay cut, you know? So, it's quite a leap of faith when you take that jump because it's not comfortable anymore, it's not like what you're used to, you're not getting a check every two weeks…But you're so free, and you get to do what you love for a living. It's like this trade-off that you have to be willing to sacrifice for. So, for me, it becomes easy to do that when you are spiritual or you have something that you believe in that is driving you on so that you feel like the pressure is not on you…
[break side="left"] It's not a blueprint, it's not a how-to guide, it's just what happened for me and things that people could learn from my experience. So, for me, in my particular situation, I just felt like God was pulling me off of my job and into my purpose and I had to understand what needed to happen mentally for me to prepare for that. And although I was doing things I talk about, all the work I put in in the book as far as, you know, going to the Recording Connection, and saving up, and moving to Atlanta, and building clients…but if I didn't have my faith, none of this would be possible. So, that's why the book is written from that perspective as well."
[break side="left"] We're happy to announce: London Elixir is now a Recording Connection mentor. Having gone the distance and put in the work on multiple levels, London is ready to pay it forward and mentor hardworking, dedicated individuals who are serious about building their careers in music.
[break side="left"] Learn more about
Recording Connection
, and how
you
can start building a career you love.
[break] [media href="https://www.youtube.com/watch?v=yhCrxAvZcH0″]
London shares more about her experience in Recording Connection for Hip Hop Production:
[/media]