Recording Connection mentor Aaron R. Reppert on Dolby Atmos, Finding Your Passion in Audio & more!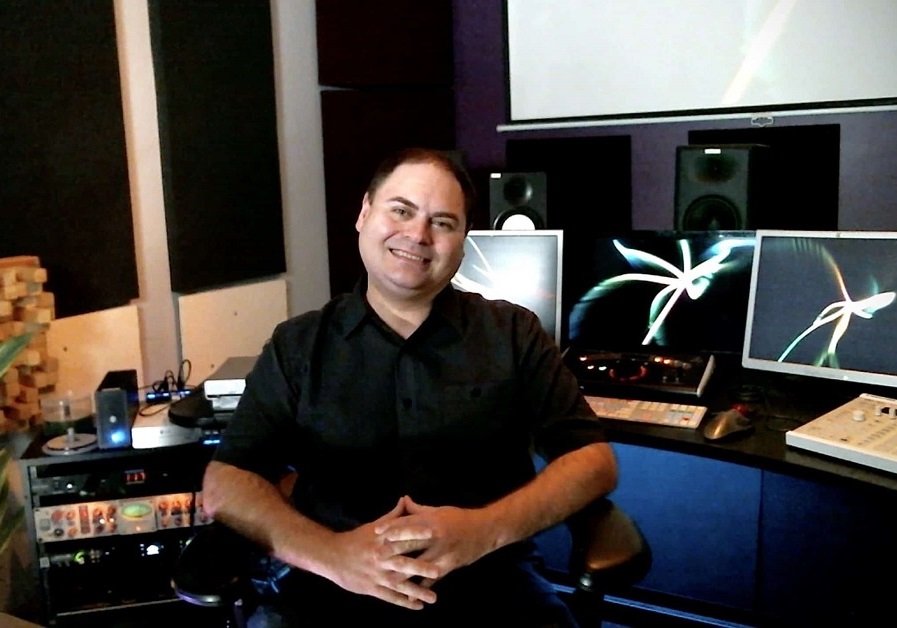 [break side="left"]
Recording Connection
mentor Aaron R. Reppert (Disney, MTV, Google) is the founder and creative director of TravSonic Studios, a multifaceted audio production company which does everything from recording artists for musical releases to sound design and all facets of audio-post, from mixing to ADR, Foley to voice-over, audio editing, and more. TravSonic is currently expanding their offerings to include mixing in Dolby Atmos, a highly anticipated technology which enables audiences to experience sound like never before—in 3D!
[break side="left"]
What's the story behind the name TravSonic?
[break side="left"] "
Transonic
means at the speed of sound and so I got this idea of
traveling sound
, which is
TravSonic
. So that means, basically, audio production (remotely) at the speed of sound. But TravSonic evolved to more than that. Now, it's an audio post-production house. So, over the past 20 years, it's taken on many avenues in the audio production field. And we continue to grow, and we want to keep growing."
[break side="left"]
Have any big projects you care to tell us about?
[break side="left"] "We did ADR work for a big animation that was out last year. I'll just say that…. It was a big animation that was out last year, did very well. So, we're very ecstatic about that. And we've also done some recent commercials. One of them was GMC, and others were MTV work for music publishing for some artists that we have…. Now that we're getting into major motion picture production, that's something that we want to continue to do and we want to grow and provide those services."
Learn about Dolby Atmos in our Straight Talk video below.
[break side="left"]
How can students make the most of their externship experience at TravSonic?
[break side="left"] The way that an extern can get the most out of TravSonic Studios is to be a fly on the wall. And what I mean by that is look at everything that is going on, because there's so [many] things that happen in the studio, and you can learn so many tips just from the audio engineer [from] editing dialogue…to [how to] streamline your process. Don't ask too many questions when the engineer is actually working…. Just… soak it in…. Jot down all your notes…. Then after the session, just ask all those questions. And then I would be happy to tell you like, 'Oh, what I did on this dialogue,' and 'How I mixed this sound design.' So that's what I would recommend."
[break side="left"]
What do you look for in the students you train?
[break side="left"] "What I look for in my students is passion and a drive to learn more. I want my students to be a sponge of knowledge, knowing what they are looking for…. When everyone wants to learn and everyone's having fun at it, then, you know, things just start moving…. And know what you want to learn. [Then], I can give you more knowledge and more hands-on experience. So that's what I'm looking for, someone who's passionate and really wants to learn."
[break side="left"]
How do you approach training someone who knows they're really interested in audio but isn't sure on exactly what they want to do?
[break side="left"] "If you're not sure what you want to do in audio, we look at it as the studio is the candy store. You try every little thing, try every flavor, and you know, find exactly what you're passionate about. Because it's all about passion. If you're not passionate about something, you're not going to stick with it. I've been doing this for 20 years, and I feel like I just started yesterday. Because every day, I'm learning something new. So as long as we're learning something new, we're having fun at it, the sky is the limit."
See our video interview with Aaron below.
[break side="left"]
Why do you, as the busy founder and creative director at TravSonic, choose to mentor for Recording Connection?
[break side="left"] "I love to mentor, but I just needed to find an organization and an institute that really caters to what I need. And that means filtering out students [who don't fit] and also giving them an affordable way to learn…. I'm always about giving back, because I've been at this a long time, and I went through some hardships, you know, in trying to build up in the industry. But I want to help students learn the avenues and hopefully speed up their career a little bit and not go through all the twists and turns. So that's why I joined Recording Connection."
[break side="left"] Want training in post-production, music production, audio engineering, beat making, and more? See how Recording Connection,
does it differently
.
[break] [media href="https://www.youtube.com/watch?v=FMuFX7vHmm0″]
Aaron R. Reppert explains what Dobly Atmos is and tells why indie filmmakers and musicians want it.
[/media] [stars] [break]